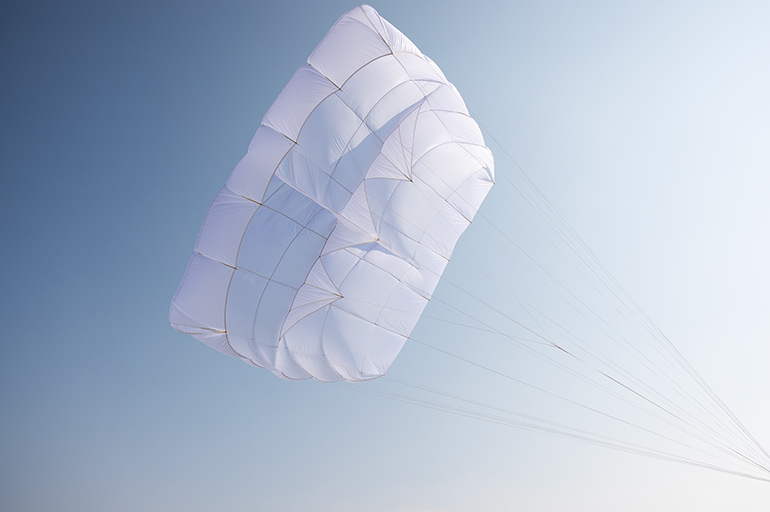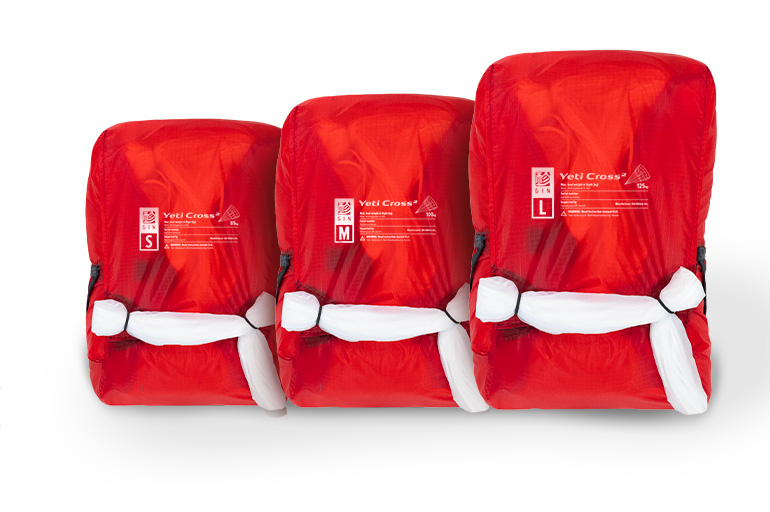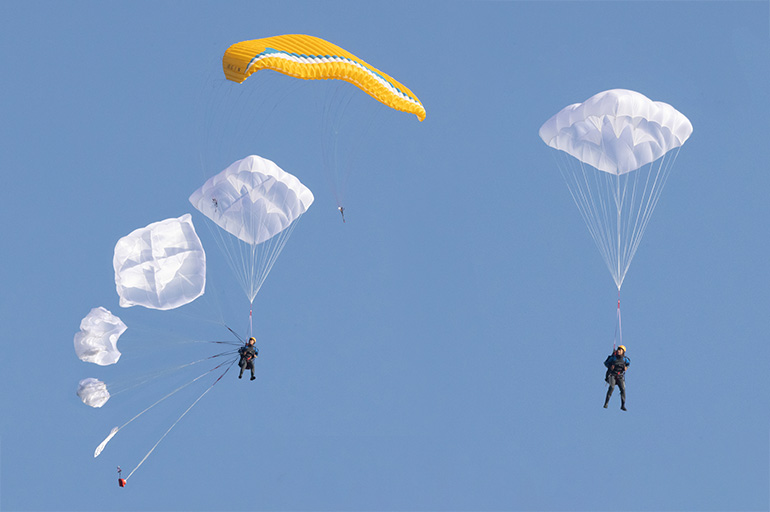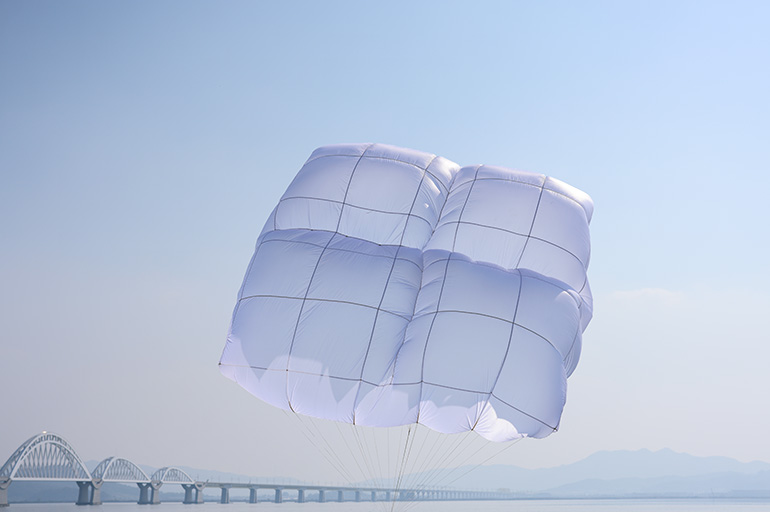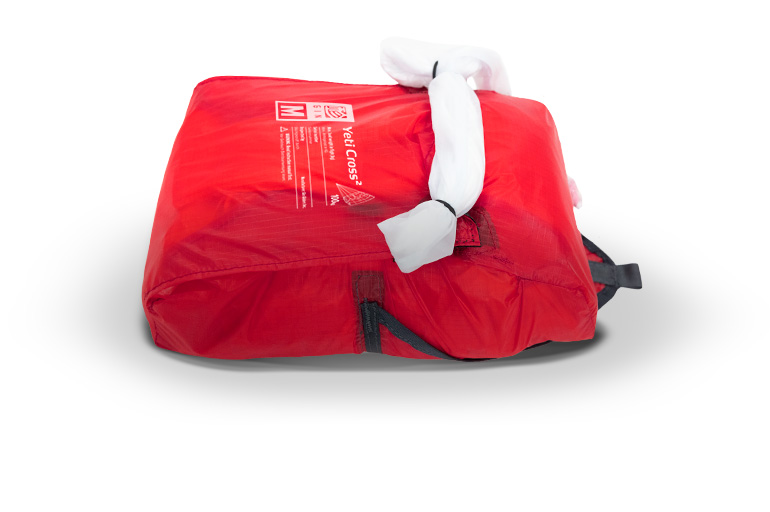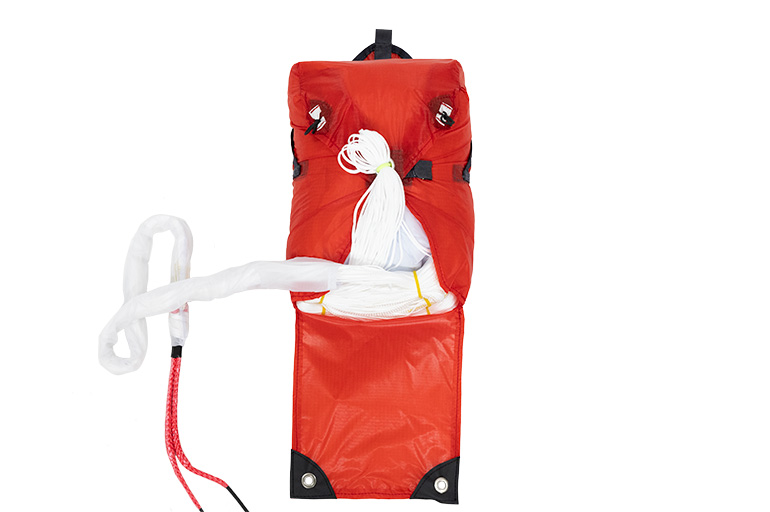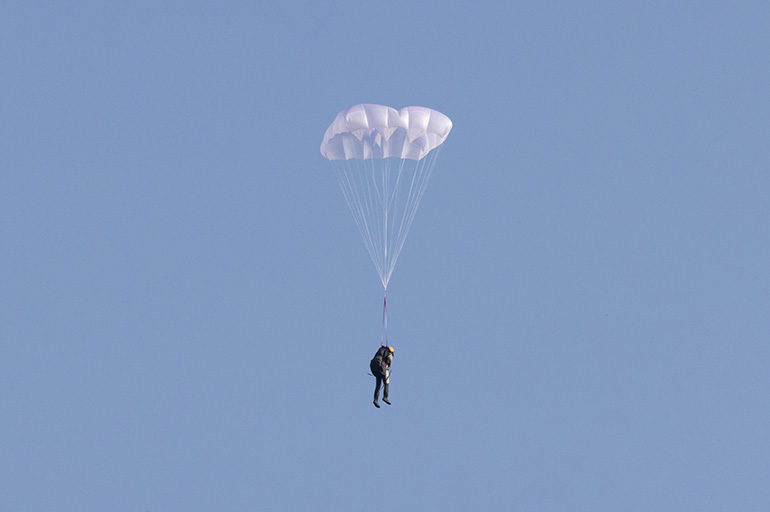 ...
Yeti cross 2
Light square rescue
EN / LTF
Planar rescue technology built in
The Yeti Cross 2 is a realisation of our planar rescue technology, first introduced in the ultralight Yeti UL, in more standard weight materials.
The result is a rescue that offers superb value: maximum stability and performance in a light and compact package.
Technical Specifications
| Size | S | M | L |
| --- | --- | --- | --- |
| Surface area (m2) | 20.5 | 24 | 28 |
| Weight (kg) | 1.09 | 1.23 | 1.38 |
| Packed volume (cm3) | 3400 | 3750 | 4100 |
| Sink rate (m/s) | 5.4 | 5.22 | 5.2 |
| Maximum load (kg) | 85 | 105 | 125 |
| Certification | EN | EN | EN |
Sink rate quoted according to manufacturer data based on average result at sea level
Delivered with inner container and 1 bridle (360mm)
What is a planar rescue?
A planar rescue is a new concept of rescue developed in-house by Gin Gliders, made possible by our new anti-billow rib technology. Lines are attached to triangular ribs deployed in a cross shape. This greatly reduces the billow of the canopy and produces an almost flat upper surface. As a consequence, the projected area is increased by 30%. This means excellent sink rates are obtainable with a lower flat area and packing volume. Overall, the efficiency of this system is the best we've ever experienced.
Stable descent with no drifting
The Planar technology features optimised air channelling to ensure no drifting of the rescue during descent. As the basic canopy shape is still square, the descent is notably stable.
Rapid and smooth opening
The design of the canopy profile, the packing procedure and the lightweight 20D fabric all contribute toward excellent opening characteristics.
Reduced weight and packing volume
Due to the Planar technology, the Yeti Cross 2 is 18% lighter than the Yeti Cross 1, and the packing volume is around 20% lower.
Well-considered sizing and weight range
The maximum weight of the Yeti Cross 2 is 5kg more than our ultralight Yeti UL (M and L sizes), meaning pilots close to the limit can still choose the smaller size.
Flat packing
The Yeti Cross 2 is packed in a flat rectangular shape, perfectly matching many harness container shapes.
Simple and neat closing
The Yeti Cross 2 packs with a clean, simple profile. There is also a fabric cover for the lines.
Details
300mm loop on risers
Dyneema lines with fabric protected riser cover
Packing loops for easy packing
2 loops of lines for smooth opening
Flat packing shape
Textile rubber bands for securing loops of lines
Fabric line cover
18% l ighter than Yeti Cross 1
Ultralight rescue container
2 rescue handle positions
Compatible with lark's head knot connections