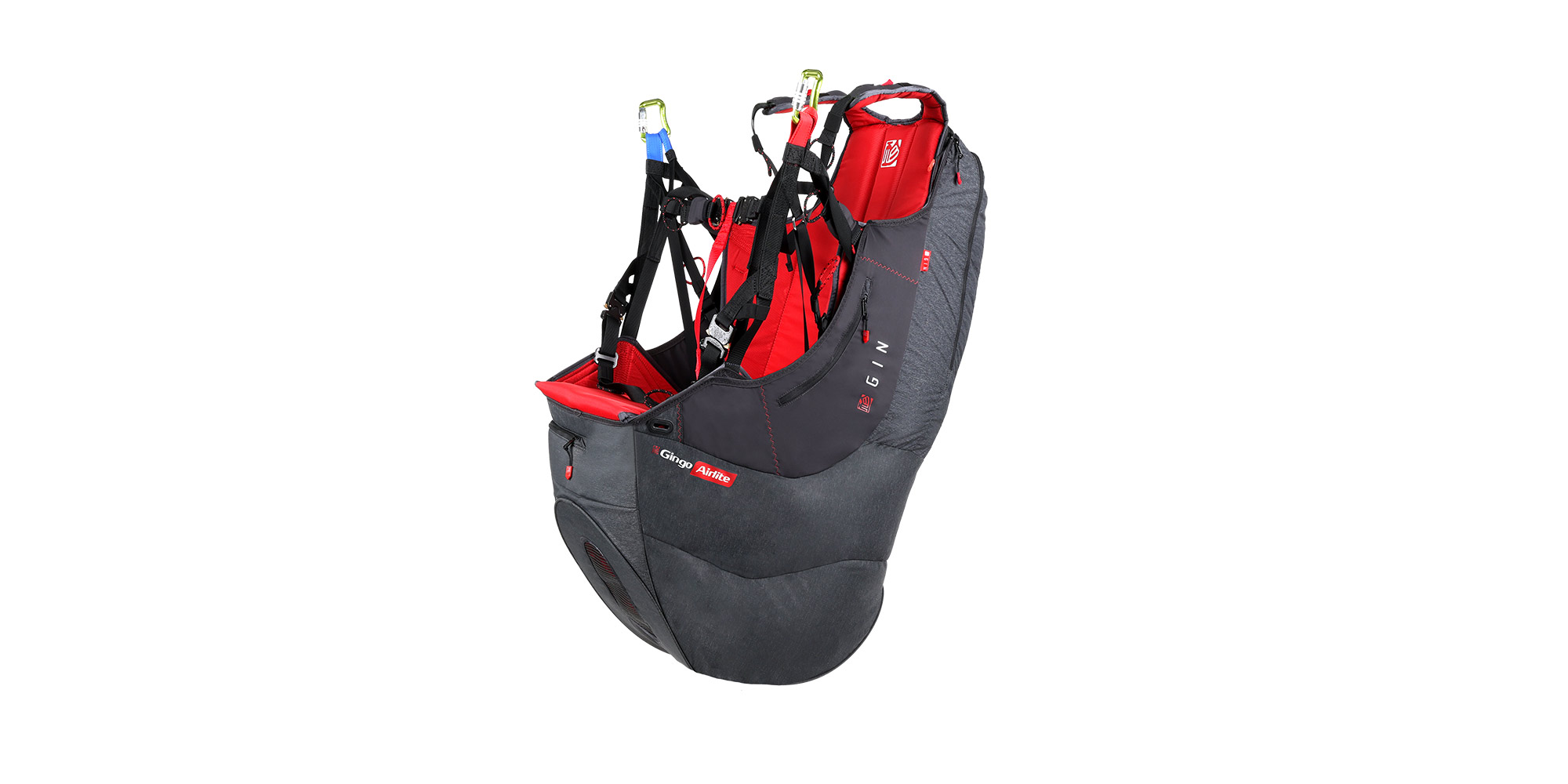 Gingo airlite 5
Beginner / intermediate light airbag
EN / LTF / CE
Evolution never sleeps
Appearances can be deceiving. Although the Gingo Airlite 5 is a conventional airbag harness with a seat plate, it is packed with the knowledge gained from previous generations. The result is our best ever airbag harness.
The Gingo Airlite 5 is a light yet durable harness with a seat plate. It's perfect for beginners and can be used from first steps at the training slope, to hike 'n fly and even cross country.
stable geometry that still offers precise control
high level of airbag protection (<20G)
clean, compact shape
premium, durable materials that are lightweight enough to take on a hike
simple to get in after take-off
テクニカルデータ
| サイズ | XS | S | M | L | XL |
| --- | --- | --- | --- | --- | --- |
| 高さ (cm) | <165 | 160-175 | 170-185 | 180-190 | >185 |
| 重量 (kg) | 2.5 | 2.6 | 2.8 | 2.9 | 3.1 |
Never stand still
Improving on its predecessor was a challenge, but thanks to our long history of harness development and the feedback from over 4000 units sold worldwide, we think we managed it!
Geometry: stable yet precise control
The Gingo Airlite 5 geometry, in combination with the seat plate, offers a sweet combination of stability and precision. The turn is stable yet authoritative, and whilst turbulence is damped, you can always feel where the lift is. This behaviour is the result of continuous fine tuning over many iterations.
Looks right, flies right
The Gingo Airlite 5 has a cleaner, more aerodynamic profile as a result of advanced 3D modelling. The shape and thickness of the profile has been improved, and the surface of the fabric is cleaner than ever with minimal wrinkles in the air.
Weight: leaner than ever
Due to more efficient construction techniques and the state of the art materials, we were even able to shave off around another 100g in weight compared to the predecessor. This puts the harness firmly in hike 'n fly territory. For example, a Gingo airlite 5 with the Calypso paraglider, Yeti UL reserve and a light rucksack weighs in at around 8kg.
Built to last
The base structure fabric has been upgraded to 210D baby rip for increased durability, and the back sections are well padded for extra comfort. Premium Cobra automatic buckles are used as these are considered to be the most reliable available, besides being easy to use. The outer shell fabric is the same as used on our Genie Lite 3 cocoon harness, which has been proven to offer excellent resistance against abrasion and degradation despite its light weight.
Supreme ease of use
The Gingo Airlite 5 adjustments are as simple as possible but no simpler. The most ergonomic piloting position is encouraged by an inherently optimal geometry and the absence of unneccesary adjustments such as seat plate depth. This also ensures that the harness is easy to get into and out of during take-off and landings.
The rescue system
The under seat rescue system has been improved with a wider exit to aid deployment in cases where the rescue is pulled more from the front. A high quality zipper closes the tunnel and the rescue handle is designed to remain securely in place yet come out easily when pulled. An inner bag is supplied which fits our Yeti, Yeti Cross and Yeti UL rescues.
The Airbag
The front inflating airbag takes up less volume than its predecessor yet still provides excellent protection (<20G). The pre-inflation system utilises titanium rods.
デザイナーノート
GIN harness designer Ho Woong offers insights on the development of the Gingo Airlite 5.
"The Gingo Airlite series has become one of our most successful harnesses. It's comfortable, light and offers good protection. With the fifth generation of the harness we have been able to improve it even more.
The geometry of the harness is a key feature, it's important that pilots feel stable and secure, yet also the ability to feel the air and precisely control the glider. We combined all the feedback from the predecessor and from our Gingo 4 harness, to refine the geometry even more. The result is a harness that helps you progress faster, stay longer in the air and ultimately have more fun!
It is also now easier than ever to slide into the harness after take off and to get out of for landing. We removed some seat depth adjustments which caused problems when incorrectly adjusted.
Thanks to our own drop test machine, we could make the reshape the harness to make it thinner and more aerodynamic, whilst retaining the excellent shock protection values of well under 20g with a reserve fitted. The titanium pre-inflation system keeps the airbag in shape, ensuring that the pilot has protection from the very beginning of the flight.
The re-designed rescue compartment makes it possible to easily pull the rescue in any direction, whilst the handle stays more securely in place during normal use."
テクノロジー
improved geometry offers greater stability and more precision
front inflating airbag protection (20G)
improved airbag pre-inflation
premium Cobra buckles with anti-forget system
underseat rescue container
2 side pockets (left zipped, right easy access)
large back pocket for storage of rucksack and compartments for smaller items
GIN Triplex seat board for durability and light weight
7.9L rescue compartment volume (M Size)
radio pocket routing
hydration pack (camelbak) pocket with routing and hole
radio case with hook knife available as an optional extra
Included with your harness
Caution
Automatic aluminium carabiners have a limited lifetime due to metal fatigue. They must be replaced after 5 years or 500 flight hours, whichever is soonest. They should never be used between spreaders and tandem wing risers as main carabiners. They should also never be used to connect bridles to the reserve.