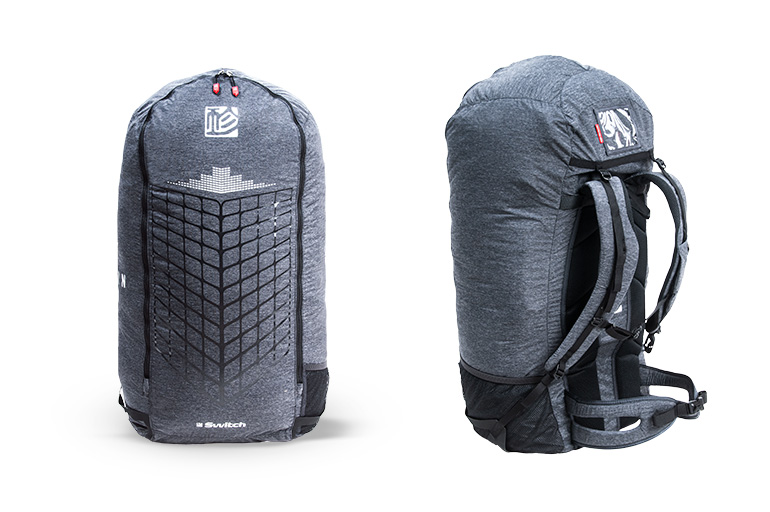 ...
Switch 2
Light reversible
EN / LTF / CE
Expand your horizons
The Switch 2 is a reversible airbag harness with split legs and underseat rescue container. It's a multipurpose tool that's simple to use and to adjust to fit all sizes. At just 2.4 kg, it's light and compact without compromising on durability.
The Switch 2 knows no boundaries — it's suitable for everyday, hike 'n fly, schooling, tandem passengers, mini-wings and travelling. It has full safety features and is comfortable enough to fly all day with.
Specifiche tecniche
| Taglie | one size |
| --- | --- |
| Altezza del pilota (cm) | 155-190 |
| Peso delle sellette (kg) | 2.4 |
| Volume of rucksack (L) | 70 |
| Certification | EN/LTF |
Geometry: ABS x split legs
The innovative geometry of the Switch 2 combines the advantages of split legs with those of a seat plate. Split legs allow for compact storage, manoeuvrability on take-off and make it simple to get seated in the harness once airborne. Whilst traditional split legs geometries require a different piloting technique due to the independent movement of the legs, this is not the case with the Switch 2. As the leg supports are connected, the harness naturally damps the movements of the air. Even beginners will feel equally at home with the Switch 2 as with a traditional seat plate harness.
Premium triple lock buckles
The Edelrid triple lock buckle is a new premium buckle that's simple to open and close, yet is highly secure. Even if the release button is accidentally pressed, the snap fastener remains hooked into the frame, making it "semi-automatic". The load bearing elements are made of a KTL-coated high-strength steel alloy, and the plastic case and snap fasteners are made of an impact-resistant, glass fibre reinforced polyamide.
One size fits all
The Switch 2 is simple to adjust for all pilot sizes. This makes it ideal for use with students in a school or tandem passengers.
Minimum weight, maximum durability
Thanks to lighter but more durable materials and a more efficient construction, we have achieved a low weight whilst retaining an excellent level of durability. The main body of the harness is made from a new 70D melange — a light, durable nylon/polyester fabric that also maintains its cosmetic appeal even when dusty or scratched.
Underseat rescue
The underseat rescue incorporates shoulder attachment points. Zipper bridle tunnels for the rescue bridles offer superior opening, a neat appearance and reduced drag.
Airbag with front inlet
The airbag has a pre-inflation system with titanium and a thin foam layer, guaranteeing full inflation within a few seconds of launch. The air inlet is at the front, enhancing durability and ensuring smooth inflation and a clean profile.
Designed to be lived with
The rucksack features an ergonomic back with foam padding for hike 'n fly comfort. A unique double-skin feature protects the harness fabric during transportation.
Bias bound seams
Internal seams are finished with bias binding to extend the lifetime of your harness.
Caratteristiche tecniche della selletta
T-lock anti-forget buckle system with new Edelrid semi-automatic buckles
Highly effective pre-inflation system (Titanium wire and thin foam layer)
Neoprene covered shoulder straps for clean, aerodynamic fit
Colour coded regulation straps and carabiner loops
Zipped rescue tunnel for easy closing, clean shape and prevention of mistakes
Optional radio pocket attaches to either shoulder strap and is equipped with a hook knife
Back pocket for storage of personal effects or light accessories
Caratteristiche tecniche dello Zaino
7.5L rescue compartment volume
80L capacity
Ergonomic back support with load distribution system
Lighter but more durable water repellent main fabric also maintains its cosmetic appeal even when dusty or scratched
Bottom part reinforced by 210D baby ripstop
Chest and waist straps
Reflector panel
Incluso con la tua selletta



Caution
Automatic aluminium carabiners have a limited lifetime due to metal fatigue. They must be replaced after 5 years or 500 flight hours, whichever is soonest. They should never be used between spreaders and tandem wing risers as main carabiners. They should also never be used to connect bridles to the reserve.