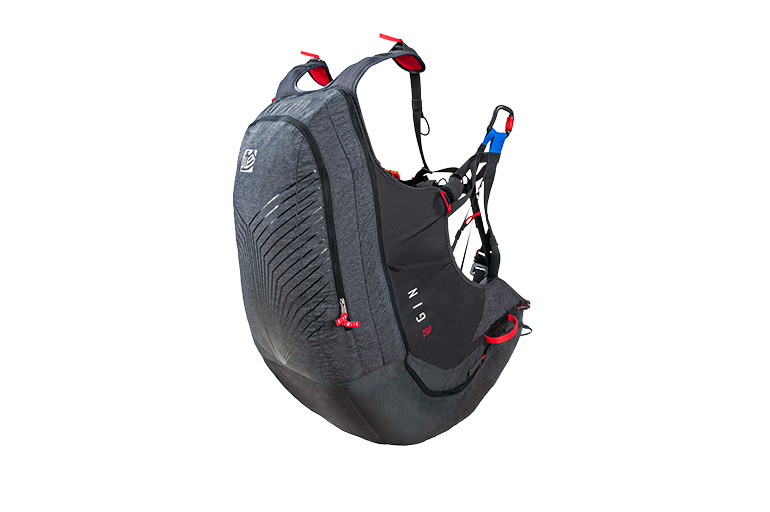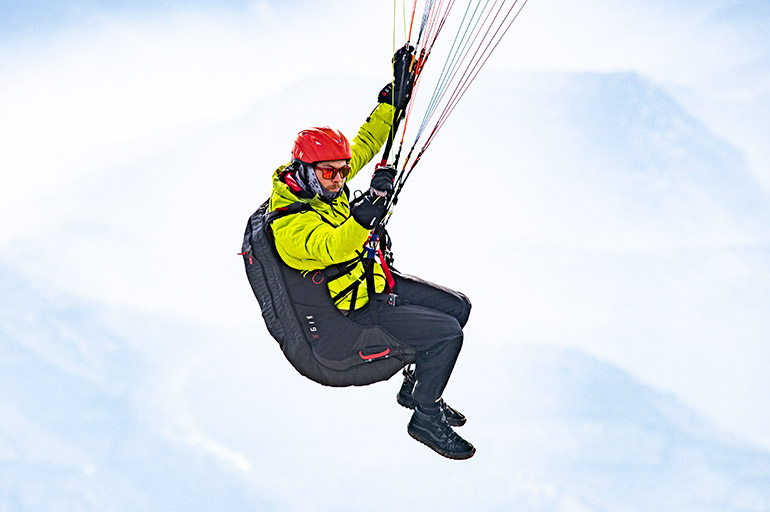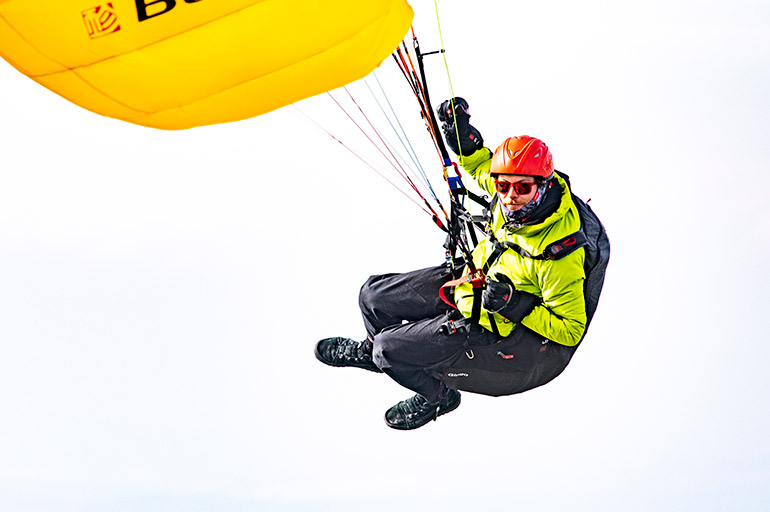 ...
Gingo 4
Intermediate
EN / LTF / CE
The best of both worlds
The Gingo 4 is an all-round harness with a revolutionary new back protector, which means a 26% weight saving over its predecessor. With the new Aerobean protector, pilots can enjoy the best of both worlds: the lightness of an airbag harness with the robust protection of a moussebag.
In addition, improved geometry and a host of other improvements make this a compelling proposition for students, leisure pilots and indeed anyone who prefer the precision of a seat board and doesn't require a cocoon.
all-round protection, yet 26% lighter thanks to the Aerobean protector
more stable in all axes due to improved geometry and ABS webbing system
thinner profile and reduced packed volume
improved rescue pocket and extraction system
Technical Specifications
| Size | XS | S | M | L | XL |
| --- | --- | --- | --- | --- | --- |
| Pilot height (cm) | <165 | 160-175 | 170-185 | 180-190 | >185 |
| Weight of harness (kg) | 3.02 | 3.05 | 3.27 | 3.50 | 3.75 |
| Certification | EN/LTF/CE | EN/LTF/CE | EN/LTF/CE | EN/LTF/CE | EN/LTF/CE |
Aerobean protector
The Aerobean protector is our lightest non-airbag protector yet. The Aerobean protector in the Gingo 4 weighs just 457g. Despite the light weight and modest profile, all-round protection in a variety of real-world scenarios remains excellent.
Improved geometry
The Gingo 4 features an updated geometry which enables sweet and precise turning. Information from the air is filtered in a highly intelligible manner. In conjunction with the wing, stability in turbulence is improved.
Abs system
The latest generation of GIN's proven ABS system offers greater stability both in rough air and also after collapses. The ABS system is optimised for today's glider designs and features an anti-forget buckle system.
Gin melange
The main body of the harness is made from an exclusive 70D mélange — a light, durable nylon/polyester fabric that also maintains its cosmetic appeal even when dusty or scratched.
Bias bound seams
Internal seams are finished with bias binding to guarantee your harness a long lifetime.
Clean and comfortable
3D shaping, simulation and testing have produced the cleanest, most wrinkle-free profile possible. Besides looking good, comfort is also improved.
Improved rescue pocket
Easy extraction and secure stowage of the rescue remains of paramount importance and the rescue pocket of the Gingo 4 has been improved compared to its predecessor. There is also a zipped rescue tunnel for easy closing and prevention of installation errors.
Details
Innovative Aerobean protector (patent pending)
New ABS system with anti-forget buckle system
Colour coded regulation straps (red to shorten, black to lengthen) and carabiner loops
Zipped rescue tunnel for easy closing, clean shape and prevention of mistakes
Speed system with elastic retainers for ease of use
G-chute pocket with shackle
Side pocket with elastic closing (right)
Side pocket with zippered closing (left)
Back pocket with zippered pocket and radio pocket
Seat plate
Included with your harness



Caution
Automatic aluminium carabiners have a limited lifetime due to metal fatigue. They must be replaced after 5 years or 500 flight hours, whichever is soonest. They should never be used between spreaders and tandem wing risers as main carabiners. They should also never be used to connect bridles to the reserve.