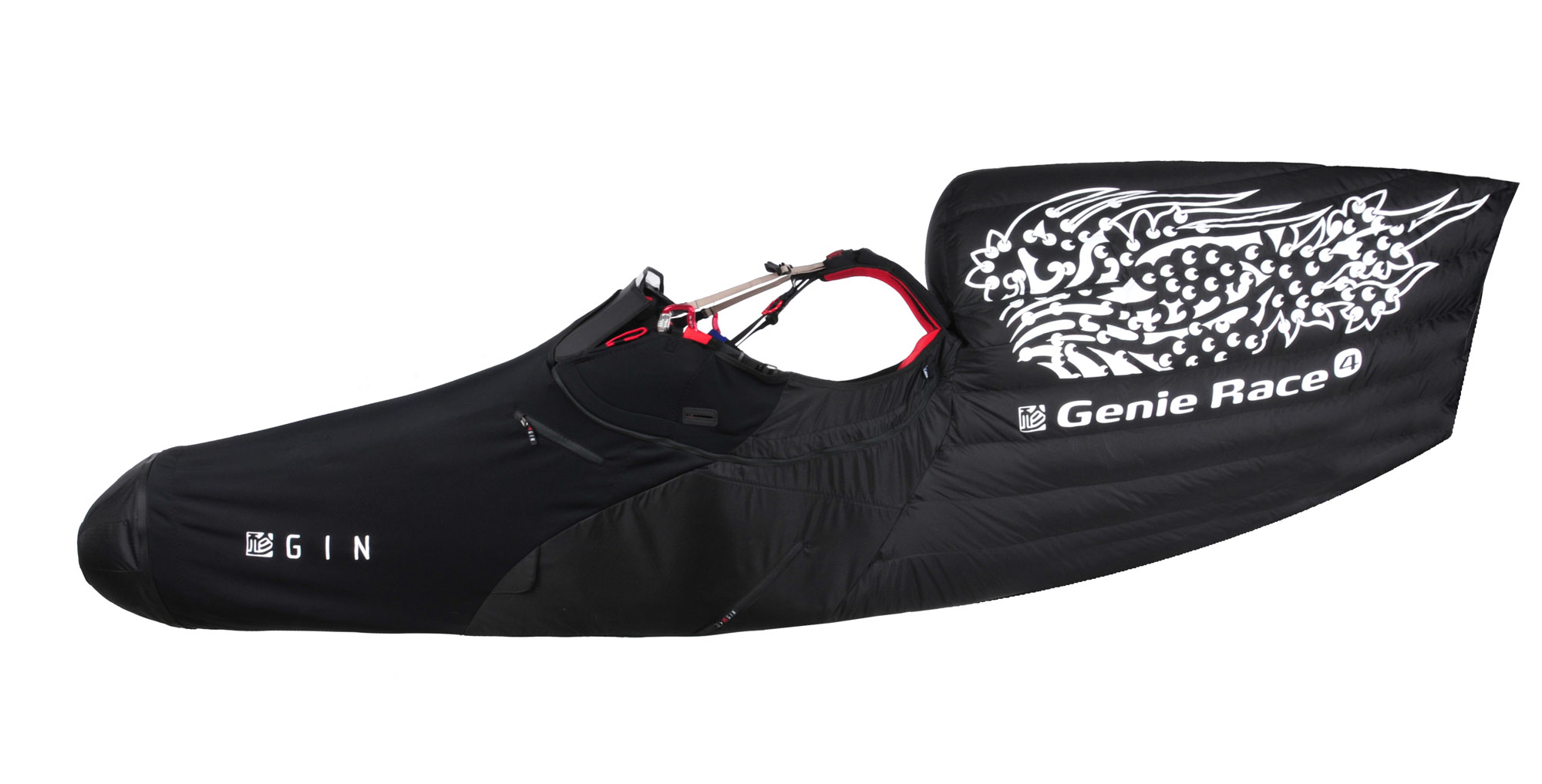 Genie race 4
Competition
EN / LTF / CE
Upgraded for 2023
The Genie race 4 has been a successful harness in the World Cup and XContest, and with the latest updates it's even better.
The Genie race 4 has been upgraded in several areas:
improved aerocone aerodynamics
improved aerocone inflation
extended visor reduces non-directional eddies and ensures a smoother airflow
reiforced cockpit bars for better stability of ballast
Technical Specifications
| Size | XS | S | M | L |
| --- | --- | --- | --- | --- |
| Pilot height (cm) | >165 | 160-175 | 170-185 | >180 |
| Weight of harness (kg) | 8.1 | 8.5 | 8.7 | 9.2 |
| Weight of removable footpad (g) | 300 | 310 | 360 | 390 |
| Certification | EN/LTF/CE | EN/LTF/CE | EN/LTF/CE | EN/LTF/CE |
Compared to the Genie race 3, the 4 is slightly narrower in the body and thighs. This gives a closer, more comfortable fit and improved control. For the best possible aerodynamic performance and comfort, be sure to spend some time ensuring that your Genie race 4 is correctly adjusted.
Designer notes
GIN test pilot and 2017 World Cup Champion Michael Sigel tells the story of the development of the Genie race 4.
"Our goal was to increase performance as much as possible by reducing the drag. The most obvious way was to reduce the cross-sectional area by using a more efficient back protector. We got very good safety results with a revolutionary 9cm back protector from Neo-Koroyd, which uses patented Koroyd technology originally used in the aeronautics and aerospace industries. We then applied our modelling and optimisation software to the nose and aerocone sections. The aerocone now covers the entire helmet, with no gap between the aerocone and the helmet. An adjustable visor reduces non-directional eddies and ensures a smoother airflow towards the aerocone. We then reduced the drag even further by removing the side air intakes and by using lower drag materials.
Besides the drag reduction, we worked a lot on pilot efficiency and comfort on long XC flights. The new ABS system allows the pilot to adjust in-flight stability with just one hand. This makes it easy to switch between a sensitive thermal-sniffing set up and a more roll-stable set up for glides.
In terms of comfort, the 3D back support fits more closely to the pilot compared to the Genie race 3, giving better feedback and control. The cocoon closes in the middle again, which makes it easier to get in and out. New support pillars help to keep the legs straight with almost no effort.
We also worked a lot on the cockpit. We made the pocket in the cockpit bigger and if you prefer to fly without the front rescue, you can use this space to put even more ballast inside. Because of the support pillars, you won't feel the weight of the ballast however much you put. The enlarged cockpit will hold all your instruments and a hook knife. The viewing angle has also been improved and fine tuning is possible with two adjusting straps.
Safety was also a vitally important consideration. We made the main under seat rescue easier to deploy, thanks to an improved opening configuration. The 2nd rescue is front-mounted and easy to see, and deploy with either hand.
Finally, we chose the highest quality materials we could find. The main structural webbings are stronger and more durable than ever and the neoprene and shell materials are the most aerodynamic materials of their type.
The end result is an overall performance gain of 3% compared to the Genie race 3. In a tight competition, this could be the difference in a podium place!"
Details
9cm Neo-Koroyd protector
windshield and improved aerocone section
Double-bladed hook knife can even cut webbing
G-chute pocket (for "Anti-G" type drag chute)
large back pocket with pouches and routing for a hydration system (e.g. Camelbak) and radio, plus a zipper pocket for secure storage of small items
2 zipped side pockets
3L under seat pocket
8L flight deck pocket
ballast spout
3 step speed bar
Front mounted 2nd rescue
5cm removable footpad to adjust the length of the cocoon
compatible with "Quick-outs"
outlet for catheter system (pee tube)
Size guide
Included with your harness


Caution
Automatic aluminium carabiners have a limited lifetime due to metal fatigue. They must be replaced after 5 years or 500 flight hours, whichever is soonest. They should never be used between spreaders and tandem wing risers as main carabiners. They should also never be used to connect bridles to the reserve.